Finally, the tribute to Francesc Boix was made in the Plenary Hall of the Sants-Montjuïc District Council on Friday, January 29, 2021.
Without an audience, it was recorded and streamed by the Sants3Radio team.
They have created this link with a QR to access the broadcast and directly to watch the event in streaming on Friday, January 29 at 5:30 p.m.
Barcelona pays tribute this Friday to Francesc Boix, known as the photographer of Mauthausen because he managed to remove from the concentration camp the images that served as evidence against the Nazi commanders at the Nuremberg trial. On the centenary of his birth, the Boix Year (1920-2020) has served to make known the other aspects of the life and work of the photographer from Poble Sec.
Ricard Marco, Fotoconnexió cultural association, presented:
Marc Serra, councilor of Sants-Montjuïc
Rosa Toran, Friend of Mauthausen of Barcelona 10 '
Joan Delgado, director of the Poble-sec Francesc Boix Library, presented:
Ariadna Gómez (viola music) 10
Josep Fabra, Poble-sec Historical Research Center (CERHISEC) 4 '
Elisenda Cartañà, association To give voice to the Memory, presented:
Butterflies do not live here. Children of Terezin 8 '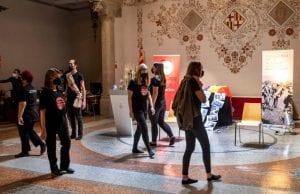 Theatrical readings by:
Teresa Marquès
Mercedes Lorente
Álvaro Conejero
Jana Sanromà
Carol Hernando
Elisenda Cartañà
Ricard Marco, Fotoconnexió cultural association, presented:
Benito Bermejo, biographer of Francesc Boix 2 '
Anna Maria Boix Salomó, niece of Francesc Boix 2´
LLibert Tarragó, son of Joan Tarragó the librarian of Mauthausen 2´
Maggie Perlado, daughter of José Perlado and Amical Mauthausen of France 2´
Lluïsa Miralles, widow of Miquel Serra Grabulosa companion of Boix 2´
August Andreu, friend of Francesc Boix 2 '
Interventions previously recorded on Sants3Radio
Ricard Marco, Fotoconnexió cultural association, presented:
Marina Rossell (songs) 10 '
Jordi Rabassa, director of Democratic Memory of BCN City Council