This photo gathering served as a presentation of the Brians book. Invisible Women, which is the result of the participatory photography project PASSING THE OBJECTIVE organized by the Setba Foundation in the women's unit of the Brians 1 Penitentiary Center in Sant Esteve Sesrovires (in collaboration with the artist and activist Marta Fàbregas).
For two years, more than sixty female inmates in prison have participated in photography workshops, discovering a new form of expression and doing empowerment work that has improved their self-esteem and image.
This photo book includes, apart from the portraits of the inmates made by the artistic director, photographs of the space by the photographer Laura Gálvez Rhein and two very special reports, one by Camila Oliveira, currently in third grade and who has had the mentorship of Marta Fàbregas, and the other by Sofía Kyprisli who is still in Brians and who has had the photojournalist Sandra Balsells as a mentor.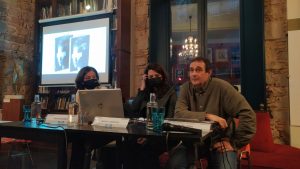 This project is a declaration of principles and this book is the first in the collection. Women are the great forgotten of the penitentiary system, since they only represent 7 of the prison population, having fewer facilities and resources than men. The Foundation wants to contribute to social transformation through culture, a powerful tool that always "saves" us.