Last Tuesday, July 12, we were able to enjoy a guided tour of the exhibition <i>Els Català, photographers of a century</i>, by Andreu Català, curator of the exhibition and son of Francesc Català-Roca, at the Museum of the History of Catalonia.
This exhibition allows us to delve into the immense legacy of Pere Català i Pic, Francesc Català-Roca and Pere Català i Roca, three photographers of the same lineage and three greatest exponents of photography in Catalonia. His images not only bear witness to the artistic and cultural movements and currents that occurred throughout the 20th century, but are also part of the iconography of our country's history.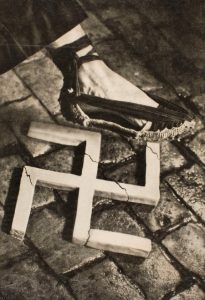 Pere Català i Pic (1889-1971), his daughter Maria Àurea (1920-1993) and his sons Francesc (1922-1998) and Pere (1923-2009) were born in Valls and in 1931 they moved to Barcelona, where they remained until the end of their lives. Several adverse circumstances cut short the studies of the three photographers, but their restless temperament and eagerness for knowledge forged a self-taught training. They worked tirelessly and chance led the three photographers to be witnesses or even protagonists of some of the most important events and milestones in Catalan history and culture of the 20th century. Maria Àurea Català, trained at the Llotja, participated, as a retoucher, in the photographic adventure with her father and brothers.